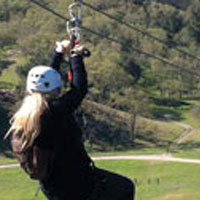 You may have toured a vineyard before, but never like this…
Indeed, the new 1,800-foot "Pinot Express" zipline at Margarita Adventures begins atop a mountainside forest at 125 feet above ground, then sends guests swooping low right over Pinot Noir vines at the historic Santa Margarita Ranch in the Paso Robles wine country on California's Central Coast.
"There's nothing else like it in the zipline world," said Proprietor Karl Wittstrom. "It feels like you can almost touch the tops of the vines on your way down."
The Pinot Express joins four previous ziplines as part of Margarita Adventures' acclaimed zipline canopy tours. The Pinot Express is now the highest, longest and fastest zipline on the tours. The cost of the tours ($99) remains the same.
Margarita Adventures' five ziplines now combine for a total of more than 4,500 linear feet. Each zipline offers a unique ride. The 1,300-foot Renegade soars over a valley with breathtaking 360-degree views. The Woodlander glides along the top of native blue and white oaks. The Hilltopper begins with a running start and concludes on a hilltop vista, while the Archway sends guests through a natural archway of companion oaks.
And now the Pinot Express punctuates the experience with an unforgettable thrill ride and an unparalleled perspective on the wine country. To reach the Pinot Express, guests take a quarter-mile trail walk, the equivalent of a very light hike. Guests who are unable to walk this distance may opt to remain with the tour van.
Margarita Adventures' 2.5-hour zipline canopy tours also include a guided tour of Santa Margarita Ranch, which was first planted to vines by Franciscan missionaries in the late 1700s. The tours touch on the ranch's sustainable ranching and winegrowing practices, as well as its diverse wildlife and remarkable geology, which includes fields of ancient oyster fossils.
Tours conclude with an optional tasting at the affiliated Ancient Peaks Winery, which specializes in artisan wines grown on the ranch's estate Margarita Vineyard. Tour guests receive 20% off wine purchases, and the tasting fee is waived with a purchase of one bottle or more.
"You can taste wines from vines that you just zipped over," Wittstrom said. "It's a fitting reward for your adventure."