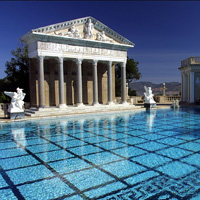 Two new tour options are opening tomorrow at Hearst Castle. The tours are a guided tour of the garden and a focus tour entitled "Hearst and Hollywood". The Garden Tour shows the challenges in transforming the rocky hillside of "The Enchanted Hill" into a lush garden. You'll spend an hour exploring the gardens of Hearst Castle while your tour guide tells the history, challenges, and changes faced by the groundskeepers of the Castle.
The tour starts at the Hidden Terrace, an early set of stairs and terraces, to the 17 changing rooms, the tour winds around the gardens and guest houses following the Esplanade, and then you walk along the Esplanade to the Main House and past the Tennis Courts and where you can see some of the best views of the surrounding ranch land. The tour ends at the Neptune Pool. Only 14 people at a time are allowed on the tour. It will be offered twice a day at 10:00 a.m. and 2:40 p.m.
Tickets are $25 per adult and $12 per child ages 5-12 years. The Hearst and Hollywood tour focuses on the Castle's allure to Hollywood's biggest stars, including Charlie Chaplin, Bette Davis, Cary Grant and Greta Garbo. The tour includes areas from all five regular tours, and visitors are able to stroll at their own leisure and enjoy the views. This tour is limited to only 8 people at a time and will be offered once daily at noon. Tickets are $100 per person. Both tours run through June 30. Reservations can be made by calling 1-800-444-4445.