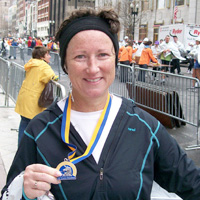 Maureen Bernadette Clancy, 53 passed away on January 2nd, 2014. Maureen, or affectionately known as "Mo," was born at St. Vincent's Hospital on October 16, 1960, in Los Angeles to the late Michael and Theresa Clancy. Mo worked over 25 years in physical therapy mainly in Arizona. The past 11 years, Mo has worked in physical therapy at Arroyo Grande Hospital and Central Coast Home Health. She was first diagnosed with ovarian cancer in 2006.
Over the past 8 years, Mo worked diligently with the "Turn up the volume" on Ovarian Cancer foundation. Mo worked with the foundation to raise awareness and educate our local Central Coast community about ovarian cancer.
Mo is survived by her loving husband Seamus Burns and brother Greg Clancy. Visitation will be from 4 to 8 p.m. Wednesday, Jan. 8, 2014, at Los Osos Valley Mortuary Chapel, 2260 Los Osos Valley Road in Los Osos. A funeral Mass will be celebrated at 10:30 a.m. Thursday, Jan. 9, 2014, at St. Paul The Apostle Catholic Church, 800 Bello St. in Pismo Beach, with a graveside committal immediately following at Los Osos Valley Memorial Park.