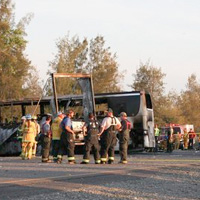 Ten people, including two drivers, were killed and 35 others were hospitalized after a tour bus owned by a San Luis Obispo-based company crashed on Interstate 5 in Orland just after 5:40 on Thursday evening. Investigators say a FedEx truck driver might have been trying to avoid a passenger car that was also involved in the crash.
The tour bus is owned by Silverado Stages Inc., which runs buses to Hearst Castle and for Amtrak. The CHP says the FedEx truck was traveling south and drifted into I-5's northbound lanes and hit the bus head on. The charter bus was carrying high school students from the Los Angeles area for a campus tour of Humboldt State University near Eureka.
Silverado Stages Inc. released a statement regarding the accident. The company told KSBY, "We take the most extensive actions possible to ensure the safety of our passengers, and all of our drivers, and this is never a call that you want to get. It's a rough night for everybody in the Silverado family.
Silverado Stages is helping the authorities in gathering information regarding the tragic accident that occurred Thursday evening. Our top priority is making sure that the injured are being cared for. Our thoughts and prayers are with the injured, their families, and everyone affected by this accident." Several phone lines have been set up for people looking for more information.