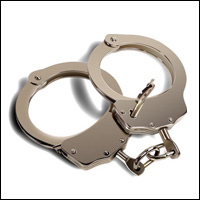 Yesterday about 7 p.m., San Luis Obispo County Sheriff's Deputies responded to reports of shots being fired at the Pismo Sands RV Park in Oceano. When Deputies arrived, they heard a gun shot, and located a man who had barricaded himself inside a motor home.
Based on information at the scene, deputies believed the man to be armed. Part of the RV park was evacuated for the resident's safety. The Sheriff's Special Enforcement Detail was called in and they proceeded to surround the motor home and secure the area. Contact was made with the man and at approximately 9:30 p.m., the man came out of the RV and surrendered without incident.
The man has been identified as 43-year-old Dennis Ray Barnes, Jr. He is considered a parolee at large meaning he has violated the terms of his parole. He was taken into custody. Charges are pending. No one was injured in this incident.