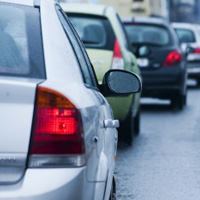 The Paso Robles Police Department received four reports of thefts from unlocked vehicles which occurred between Sunday and Monday, November 10th and 11th. All of these crimes took place in residential neighborhoods (Cheyenne Drive and Red River Drive) on the east side of the city during the overnight hours. Officers did collect evidence and the investigation is ongoing. It appears that two suspects acted in concert to commit these crimes. One of the suspects acted as a look out while the other entered the unlocked vehicles and removed property. The suspects were concealing their identities by wearing dark colored clothing, hooded sweatshirts, gloves and masks.
It appears that one of these suspect's images was captured on a private security surveillance video system on a prior date prowling in the same neighborhood. This suspect is described as a White male adult in his early 20's with no facial hair. Anyone who can identify this suspect is asked to call the PRPD.
These types of cases are difficult to solve, as there is usually very little physical evidence left behind. In addition to the loss of personal property, victims also endure a loss of their personal time contacting banks, canceling credit cards, and sometimes obtaining a new driver's license.
The PRPD is requesting help from the public in reducing these types of crimes. The areas where the public can help reduce their chances of being a victim are: ensuring they lock their vehicle and set the alarm when leaving it unattended, taking their valuables out of their vehicles or hiding them from plain view, and remembering to close the garage door upon leaving or returning home.
By partnering with the community, the PRPD is certain that instances of "crimes of opportunity" can be significantly reduced. The PRPD also encourages the public to call and report suspicious activity.