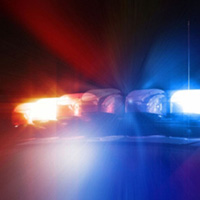 A San Luis Obispo traffic stop Wednesday ended in the arrest of two men and the seizure of about $5,000 worth of heroin. At about 11 p.m., a sheriff's deputy was driving on Madonna Road when he pulled over a Dodge Dakota pickup truck with Jason Michael Gauthier, 32, of San Luis Obispo and Jacob Charles Michael Collins, 29, of Rio Vista, inside.
A Sheriff's Office news release said that when Collins, the driver, got out, the deputy saw a knife on the driver's seat. The deputy searched Collins and allegedly found a digital scale and a golf ball sized packet of heroin hidden in his groin area. Collins allegedly admitted that the package contained a drug that was later determined to be about forty grams of heroin.
A small amount of heroin allegedly was found in Gauthier's wallet. Both men were booked into County Jail on charges of possession of a controlled substance, with Collins additionally charged with transporting a controlled substance. As of Friday afternoon, Collins remained in custody on $30,000 bail and Gauthier on $20,000 bail.