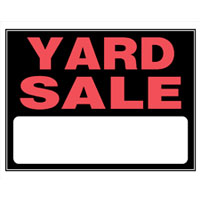 A weekend of treasure hunting returns to Morro Bay April 5-6 when the community holds its annual City Wide Yard Sale. Hundreds of businesses, organizations and individual households throughout the city will be selling every imaginable type of treasure from 8 a.m. to 2 p.m. both Saturday and Sunday.
Treasure maps leading to participating locations can be found in the April 3 edition of the Bay News. Maps also will be available April 3-5 at Brenda Sue's Consignment, 248 Morro Bay Blvd. Brenda Sue's is the official yard sale headquarters and will open at 7 a.m. both Saturday and Sunday. Sellers with special items to sell can have their listings included on the treasure map for a $15 fee.
To get on the map, register before March 27 at the Morro Bay Chamber of Commerce, 695 Harbor St. The City Wide Yard Sale is put on every year by Morro Bay Beautiful, a nonprofit community organization dedicated to preserving and enhancing the beauty of Morro Bay. Buyers come from all over California to get great deals on glorious goods. For more information, call the Morro Bay Chamber of Commerce at (805) 772-4467.