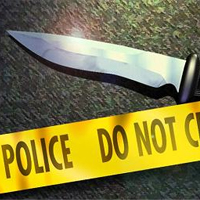 On December 30, 2013 at approximately 7:20 PM 41-year-old John Ensor from Bakersfield was in an altercation with several males near the intersection of Higuera and Chorro in San Luis Obips. Ensor allegedly pulled a knife out and held it over his head in a threatening manner.
An off duty officer was walking with his family and saw this incident unfold. The off duty officer saw a threat to life and drew his firearm and identified himself as an off duty police officer. Ensor threw the knife on the ground and ran from the area.
He was stopped in a parking lot and detained. The off duty police officer positively identified Ensor as the suspect in the brandishing and placed him under arrest. Ensor was booked into county jail for the brandishing and is being held on $2,000 bail.