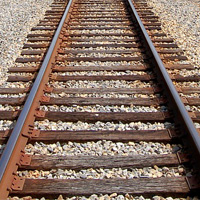 On Monday, December 16, at approximately 7:52 p.m. Pismo Beach Police officers were dispatched to the railroad tracks behind Frady Lane on a report of a male subject trespassing on the railroad tracks. The subject was reported to be laying on the tracks. Officers responded immediately as a northbound Amtrak train was traveling through Pismo Beach.
Officers arrived on scene to find the train was stopped and a 43-year-old male identified as Michael Evans laying beside the tracks with significant injuries to his upper body. Pismo Beach Officers administered first aid until medical personnel arrived on scene. Both Cal Fire and San Luis Ambulance arrived and took over medical aid. The male was transported by ambulance to Sierra Vista Medical Center.

The cause of the incident is currently under investigation.