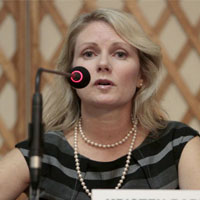 On Tuesday of this week, the Arroyo Grande City Council voted unanimously to appoint Kristen Barneich to fill the vacant position the council. The position became available when Caren Ray resigned in October after being appointed by the Governor to the San Luis Obispo County Board of Supervisors.
Ms. Barneich has previously served the City on the City's Planning Commission since 2007, most recently as Vice Chair. Previous to that, she served two years on the Architectural Review Committee. She is also the President and Co-Founder of the Tree Guild of Arroyo Grande, a non-profit organization dedicated to the preservation and enhancement of Arroyo Grande's urban forest. Kristen's other community involvement has included participation in many local organizations, such as Arroyo Grande In Bloom, Girl Scouts, Ocean View PTA, Paulding PTO, South County Historical Society, the Lucia Mar Foundation for Innovation, and youth soccer. Kristen resides in Arroyo Grande with her husband Michael and two daughters, Madison and Hailey.
Mayor Tony Ferrara stated, "We had several excellent applicants for this position and we appreciate all of those citizens who applied. We had to choose one, and Kristen brings significant knowledge of the City with her experience on both the Planning Commission and Architectural Review Committee, as well as her history of community involvement. I am confident she will hit the ground running and we look forward to working with her."
Ms. Barneich added, "I'm thrilled to be able to continue to serve the City in this new capacity as a member of the City Council. I was impressed by the qualifications of the other applicants and their willingness to serve the City, and am honored and humbled that the Council appointed me from such a qualified pool of applicants. My hope is that the other applicants will look for other opportunities in which to serve the City."
Council Member Barneich's term on the Council will run through December, 2016.