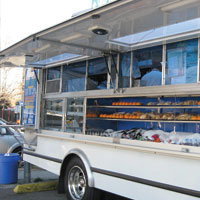 The San Luis Obispo city council voted 3-2 last night to increase regulations on food trucks operating in the city. Currently food trucks and mobile vendors are now banned from residential zones at night.
Vendor trucks are also not allowed to operate on public streets where the speed limit is greater than 35 miles per hour.
The council will again address the issue in a year to see how the ordinance is doing.