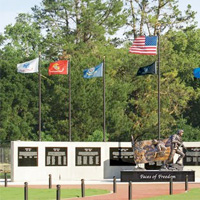 Yesterday, at approximately 10:05 in the morning, Atascadero Police Officers were dispatched to the Faces of Freedom Veterans Memorial, located at the intersection of Portola Road and Morro Road, regarding a vandalism/hit and run. A bystander observed a mid-1980's red Chevrolet pickup truck drive through the Faces of Freedom Veterans Memorial grounds damaging several benches and lighting fixtures.
The vehicle fled the location on Amapoa Avenue prior to officer's arrival. Responding officers conducted an extensive area check for the suspect vehicle which ended with negative results. The vehicle is described as a mid 1980s Chevrolet pickup. The vehicle is dark red and has a diamond plated tool box in the bed and some type of rack. The damage to the memorial has been initially estimated at $15,000.00.
City of Atascadero Mayor Tom O'Malley states, "On behalf of the Council I am saddened to hear about the damage done to the Faces of Freedom Veterans Memorial this morning. While I am disheartened that an individual or individuals caused the damage, at the same time I am encouraged by the quick response of our City staff members, Memorial Foundation representatives and community members.
We ask for the community's continued response in providing the Police Department with any information they may have regarding the incident." Video surveillance of the incident is being reviewed to assist in identifying the suspect(s). The Atascadero Police Department's Traffic Unit is continuing to investigate this incident.