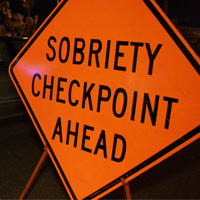 The Avoid the 14 DUI Task Force in San Luis Obispo County is on high alert for DUI drivers.
Beginning Friday and going through January 1, the task force has plans to conduct two DUI and Driver's License Checkpoints, utilize a multi-agency strike team, send out nine roving DUI patrols, and conduct DUI warrant and probation sweeps.
They're also planning a DUI court sting that targets suspended drivers who were ordered by a judge to not drive.
"It's everyone's responsibility to do what they can to keep our roads safe during this holiday season. In keeping with this thought, police agencies throughout San Luis Obispo County will be enhancing enforcement efforts to protect the public from drivers who choose to drive while impaired by drugs or alcohol. There are simply no excuses for risking the lives of others by getting behind the wheel when your ability to control a vehicle is diminished. Identify a designated driver ahead of time if you plan on drinking and ensure this season will be filled with only positive memories," said Stephen Gesell, the San Luis Obispo Chief of Police.
Data shows the holiday season has an increased number of fatal accidents because there are more drunk drivers on the roads.