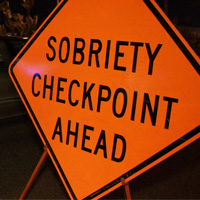 DUI Arrests Down & DUI Fatalities Remain at zero. The Winter Holiday Anti-DUI crackdown has resulted in a significant number of DUI arrests from local routine traffic enforcement, sobriety checkpoints and special 'AVOID the 12' DUI deployments over the weekend.
From 12:01 a.m. Friday, December 13, through noon Tuesday, December 17, officers representing 12 county law enforcement agencies have arrested 33 individuals for driving under the influence of alcohol or drugs. In 2012, 45 DUI arrests occurred during the same time period.
On Friday, December 20th, the cities of Lompoc, Santa Barbara and Santa Maria will have sobriety checkpoints within their cities.
On Saturday, December 21st, 'AVOID the 12' will conduct a multi-agency DUI / Driver's License checkpoint in the City of Santa Barbara.