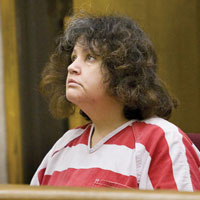 Sunni Jackson, the Paso Robles woman who killed her 61-year old mother, has been found not guilty by reason of insanity.
Yesterday the judge received reports from three doctors who evaluated Jackson and who all agreed she was mentally insane.
Jackson was arrested in April of 2012 after her mother, Earlene Grove, was found dead inside her Olive Street home stabbed several times.
Jackson will spend at least 180 days there but could be in a state hospital for the rest of her life.