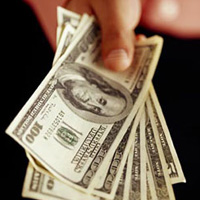 Two San Diego residents were arrested Tuesday after allegedly paying with counterfeit money at Pismo Beach Premium Outlets.
Around 5:30 p.m., the Pismo Beach Police Department received a report from one of the businesses that two people were attempting to pay with a counterfeit $100.
The suspects, Erik Richard Erickson, 40, and Corey Anne Browning, 34, were arrested. According to police, several hundred dollars in counterfeit currency was seized.
Erickson and Browning were arrested on suspicion of burglary, possessing and manufacturing counterfeit currency, possession of methamphetamine and drug paraphernalia, and criminal conspiracy. Both are in San Luis Obispo County Jail.