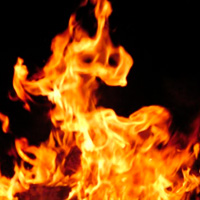 San Luis Obispo City Fire Department and CAL Fire personnel responded to a reported structure fire at 1510 Froom Ranch Rd. in the City of San Luis Obispo at 7:16 pm last night. The first arriving SLO City Fire Department unit found employees had evacuated the store after finding a fire burning in the HVAC ventilation system serving one of the bathrooms in the rear of the store.
After confirming all employees and customers were out of the large building, the fire was quickly extinguished and efforts transitioned to removing the large amount of smoke that filled the upper airspace of the retail space.
With the assistance of the building/property owner, 16 firefighters used many large portable fans to quickly pump the smoke out of the front and rear doors in an effort to save the large amount of new retail clothing stocking the shelves.
This effort was successful, and resulted in a relatively small dollar loss of approximately $1000, which was limited to the mechanical ventilation (HVAC) unit and related vent piping in the bathroom. The clothing was spared any damage and the store manager planned to be open for business today, 12/4/13, at regular hours.
In this busy holiday shopping season, firefighters remind you to be aware of your surroundings and note the location(s) of exits in any business you may visit.