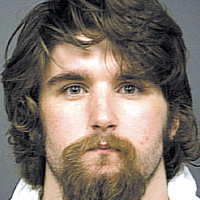 The Cambria man 23-year old Brandon Henslee who killed his half-brother with a screwdriver and baseball bat in their home last year was sentenced on yesterday morning
to 27 years to life in prison for murdering his half-brother, 20-year old Tyler Hanks.
Henslee's mother and aunt said Henslee has a mental illness, and they pleaded to Judge Hensely will spend time at the CMC in San Luis Obispo, where he might get help for an alleged mental disease. The prosecution said the motive was jealousy. Henslee has also been ordered to pay close to $12,000 in restitution fees.