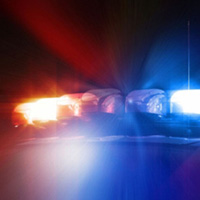 On Thursday at approximately 10:00 a.m. the San Luis Obispo Police Department received a report of a suspicious device placed near the entrance doors to a business in the 1300 block of Chorro. SLOPD police officers arrived on scene and made an assessment of the device. The device was constructed in such a fashion that the County Bomb Task Force was called out to examine the device further.

As a precaution the roadway in the area of Chorro and Pacific was closed to limit vehicle and pedestrian traffic. The affected business was evacuated and surrounding buildings in the area were notified and asked to evacuate or stay inside.

Upon the arrival of the BTF an assessment of the device was made using the BTF robot. After further review and assessment the device (utilizing the robot) was removed from its location and placed into a secure containment vessel and transported to a safe location.
This investigation will continue as the BTF will conduct an evaluation of the device to determine if it had any destructive capabilities and assist our department with the collection of evidence.

The Police Department has been asked if the placement of this device has any significance to the date of 9/11. Regardless of the date the act of leaving an implied or actual destructive device is a criminal act and we take this threat seriously. Our department will continue to investigative the matter fully to locate the suspect(s) that are responsible.