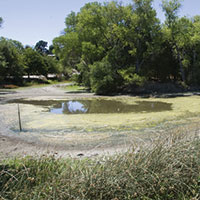 The City of Atascadero is pleased to announce that work on the sediment removal at Atascadero Lake is complete. Viborg Construction from Paso Robles, together with numerous local trucking companies, completed the work that included the removal of nearly 10,000 cubic yards of sediment from the lake.
The project increased the depth of the south end of the lake from one to four feet by removing the nutrient rich soils that play a part in the heavy algae blooms in the summer months. Chemical testing of the sediments has begun and early results indicate no levels of concern. The sediment is being tested for pollutants, heavy metals and pesticides. Once testing is complete the final use of the sediments will be determined. The City hopes to put the material to a beneficial use at other City facilities and projects.
The City obtained authorizations to perform the work from the California Department of Fish and Wildlife, Army Corps of Engineers, and the Regional Water Quality Control Board. Mike Hill of the firm Althouse & Meade, a local biological consultant, monitored the grading activity, including the relocation of a tortoise from the work area. City staff is in the process of obtaining a Fish & Wildlife permit to allow more maintenance activity at the Lake over the next 5 to 10-years.