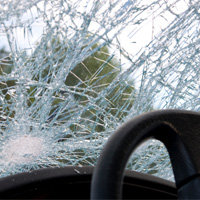 The CHP reports that a 58-year-old Arroyo Grande man was killed overnight Thursday in a big rig crash on Interstate 210 in Pasadena. It was raining at the time. The man left the roadway and hit a concrete over-crossing pillar. CHP officers don't know if he was wearing a seatbelt. Officers say he was pronounced dead at the scene.

The truck was towing a trailer, and the trailer jack knifed, which blocked all lanes of the eastbound 210 in that area. Five other cars crashed into the trailer. Two people were hospitalized with minor injuries.
The cause of the accident is under investigation.