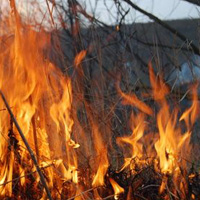 The San Luis Obispo County Air Pollution Control District and Health Department informs individuals that an air quality alert has been issued due to the potential impacts from the Pfeiffer Wild Land Fire near Big Sur.
Due to changing winds and weather conditions, it is difficult to predict which areas of the county may be most affected by smoke from the fire. If you smell smoke, County officials urge that you take precautions to reduce the harmful health effects by limiting outdoor activities. These precautions are especially important for children, the elderly, and people with respiratory and heart conditions.
County agencies urge residents to use common sense and take precautions to reduce the harmful health effects associated with smoke exposure. When you can see or smell the smoke in your surroundings, officials recommend you avoid strenuous outdoor activity and remain indoors as much as possible.
The District will continue to closely monitor smoke impacts and air quality in San Luis Obispo County.